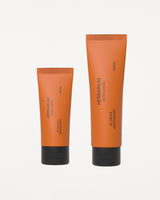 FRAMA HAND CREAM TUBE | HERBARIUM | 60 ML
Frama Hand Cream Tube in Herbarium 60ML
Created to embody the calming essence of wild flora, FRAMA Herbarium Hand Cream is a compact, travel-friendly nourishing hand treatment with absorbent fatty acids that deliver intense hydration to skin, cuticles, and nails. Scented with a fresh yet exhilarating aroma with a balsamic undertone, this cream is a soothing treat for your skin and an essential part of your care routine.
Key notes: Orange, White Rose, Cedarwood, Patchouli
Aroma: Herbal, Spicy, Woody
Formula
With its rich blend of Vitamin E, calming ingredients, and skin-softening emollients, Herbarium Hand Cream deeply moisturizes the skin and reinforces its natural protective barrier. It also contains antioxidants that protect against free radicals and revitalize the hands, scenting them with its distinctive aroma.