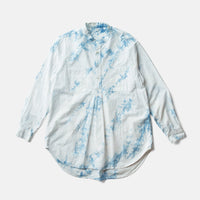 COTTLE, ZEN LOAN SHIRT, STAR SHOW
Cottle Zen Loan Shirt in Star Show 
Chain stitches are used on the shoulders and side parts, which are used in vintage jeans, to create a wide range of expression and range of color accumulation called dyeing called puckering.
There is a gold button (Japanese-Kintsugi Button) on the placket.

The material is an original typewriter-like firm fabric made with natural dyes. The fine fabric is made with a 80 count thread to create a glossy and high-density finish.
After using indigo leaves and lye by the method unique to old times,
Natural dyeing, which is stronger than usual, is applied by a special technique.
Since it is dyed by hand, color unevenness and color accumulation may occur in each point.

Please consider only those who understand that it is one of the textures.
There are thread knots (neps) peculiar to silk noil, black sesame-like thread pools, color pools, etc. Please consider only those who can understand that it is also one of the textures.